7 Bars Around India You Should Hit At Least Once In Your Lifetime!
7 Bars Around India:-Most of us happen to travel to big metro cities across length and breadth of nation doesn't matter for what work. If you are fond of hitting pubs and bars to escape some fun moments from the tense and boring schedule of your life to sip those invigorating glass of wines and cocktails at India's best of the best bars with opulent décor and legacy; just scroll down the list to catch your own destination!
1. Asilo, Mumbai
Heading to the highest roof top bar in Mumbai, Asilo is the new address for Santorini kind of experience. Located on the 38th floor at Regis Hotel; this new sensation in the dream city has taken Mumbai by storm. As the feel of ordering the best signature cocktails and fresh grilled cuisines sitting in the meditarrian ambience while capturing the panoramic top views of never sleeping and glamourous Mumbai is just totally crazy!
2. Pebble, Bangalore
Often called as Te Jungle Lounge, the pebble bar in Bangalore is a pure escape from the hustle-bustle of the noisy city. Themed as a sea beach bar decorated with coconut trees and underlying soft green grass enchant every tourist in no time.
3. Tamasha, Delhi
If you are roaming about the New Delhi's CP; then a l-turn would throw you Delhi's most popular bar and pub destination Tamasha meant for experiencing some thrilling cocktail and creating some naughty moments by stealing some moments from fast moving life of Delhi. It's uniquely designed outdoor bar and the one that in open luxurious truck is unmatched and unexpected.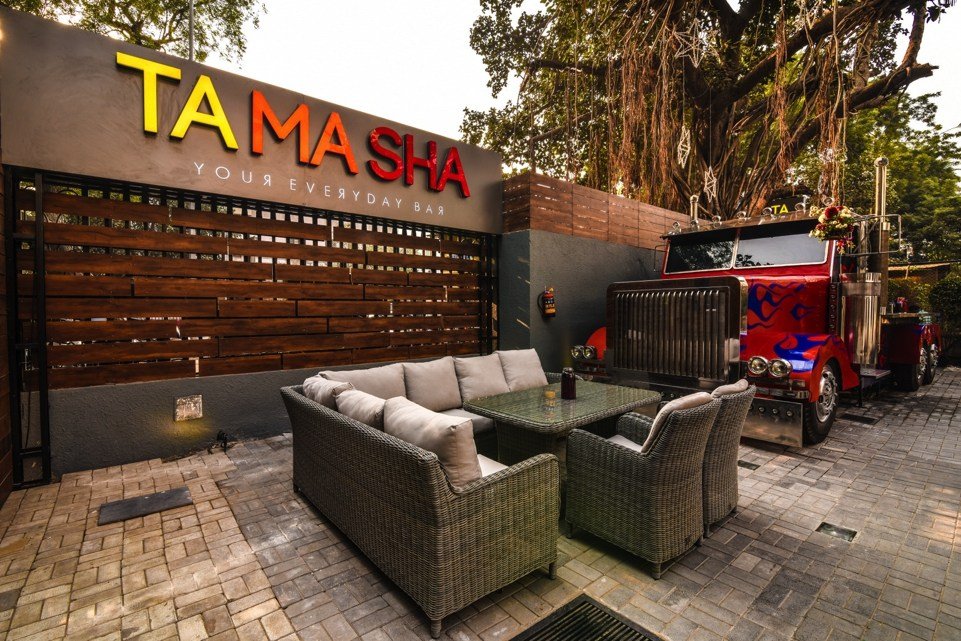 4. Quote Bar, Delhi
If you wish to grab an aristocratic and intellectual feel Quote Bar in capital city Delhi would avail you the cozy environment. With its walls adorned with intricate and most common maths symbols, words and quote that ignite minds to deeply discuss over those and you might found many elite learned ones gossiping with the best of academic and philosophical knowledge they have.
5. Black Ship Bistro, Goa
Well, Goa is all about chilling and thrilling. Talking of the one of the undisputed premium bars that offers fabulous vines and cocktails one could sip in the invigorating and sensuous days of Goa.
6. Bar Palladio, Jaipur
In the capital city of royal Rajasthan; Jaipur's Bar Palladio whose opulent blue and white décor fashioned with European style and interior reminds of royalty that once Rajputana rulers had absolutely is the destination where one could escape from the hectic world and sip a invigorating glass from vast list of brands of premium wines and cocktails.
7. Amoda Spa Bar, Kolkata
Last but not the least is Joy city Kolkata's Amoda Spa Bar that is so nicely themed for solely soaking in comfort and luxury amidst the push and pull of Kolkata. The fascinating part about is that during day time soul soothing spa is operational which turns into fabulous bar as the sun sets and LED lights glows opening gates for unlimited eating and drinking pleasure.
Recent Posts