Saloni Ke Mummy Dubra Jaibu Ho, Kallu Ka Navratri Gana
Saloni Ke Mummy Dubra Jaibu Ho, Kallu Ka Navratri Gana
Saloni Ke Mummy Dubra Jaibu Ho, Kallu Ka Navratri Gana:-When the work is overwhelming, everything is ok. Saloni ke mummy dubra jaiboo Navratri video song viral on youtube youtube sensation Chandni Singh's new Navratri song is coming to the market, named Saloni ke Mummy.
This Navratri song album has been released by Adi Shakti Films in this Navaratri. Even before the release of this album Chandni Singh and hero Arvind Akela Kallu is being discussed.
This album is written by Shyam Dehati while producer Haimons Mishra Arvind is the voice of Kallu in this album, while Chandni Singh and Kallu, and others are seen in the video. In this album Chandni Singh i.e. Saloni's husband says to Saloni .please don't take fasting for 9 days in Navratri.it will affect your body, After which Chandni Singh tells the resentment of the word 'Navaratri'.
The album is staring at the voice of Chandni Singh Alka Jha, while Arvind Akela Kallu is looking down on his own voice. Vicky Yadav is the digital manager of the album. Chandni Singh Arvind Akel has already worked with Kallu. He is very happy about this album.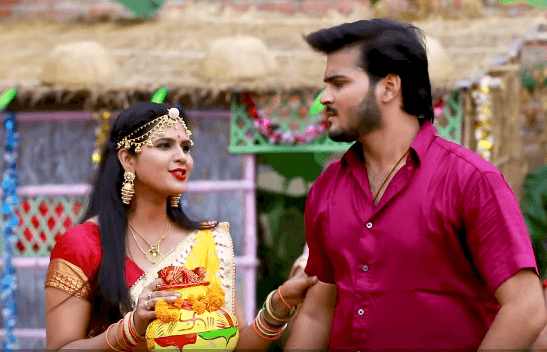 Arvind Akela Kallu says about Chandni Singh and he is an extraordinary artist and also behaviour efficient. It really feels good working with Chandni Singh. It is already in the debate even before the album Saloni ke mummy dubra jaibu is in the market. The song is so popular that it has seen more than 1.3M views within two days of coming to YouTube.
भुखब  हम  नवरात्र बक्सर से कलशा लाइनि माई के कृपा भइल रउवा जइसन पति पइनी
Saloni Ke Mummy Kathua Jaibu Song Lyrics
हर साल सूटर धरी जा देवे तानी अर्ग
सभे लाइन में लागल जी भूखल लागल पर्व
पला पानी जब समाई जइबू
सलोनी के मम्मी कठुआ जइबू
ओढले इब साल तू का जाइबा साडी
बगले में भउजी देखे कइसे ओढ़े बाजी
उनकर नइखे साडी ऐसे चमकउवा
तू बाड़ू नया ऐसे सोचे पूरा गऊवा
काहे तू जिद आइल बाड़ू कहन हमरो मानो
हवा बहवे कान में इस्काप रानी बांधो
सलोनी के मम्मी कठुआ जइबू
भूखल बानी सैया तनी बोला प्यार से
तू ही मँगाइलू बक्सर बाजार से
श्याम देहाती सैया तनी करी जनी हट जी
माई में ध्यान देके करे छठ जी
सलोनी के मम्मी कठुआ जइबू
भूखआ  जन ९ दिन गडबडा जइबू सलोनी के मम्मी दुबरा  जइबू
Singer – Arvind Akela  "Kallu Ji " & Alka Jha
Album –  सलोनी के मम्मी
Digital Manager – Vicky Yadav
Producer – Manoj Mishra
Company/Label – Aadishakti Films
Saloni ke mummy dubra jaibu navratri video song viral on youtube

POPULAR POST
About Author
Pankaj Singh
Pankaj Singh is the Senior Software Developer and the Founder of 'Goophe'. He has a very deep interest in all current affairs topics whatsoever. Well, he is the power of our team and he lives in Delhi. who loves to be a self dependent person.