ROBOT 2.0 : Times when the film made headlines
"2.0" Teaser leak, Soundarya Rajinikanth slams the "heartless" act of piracy: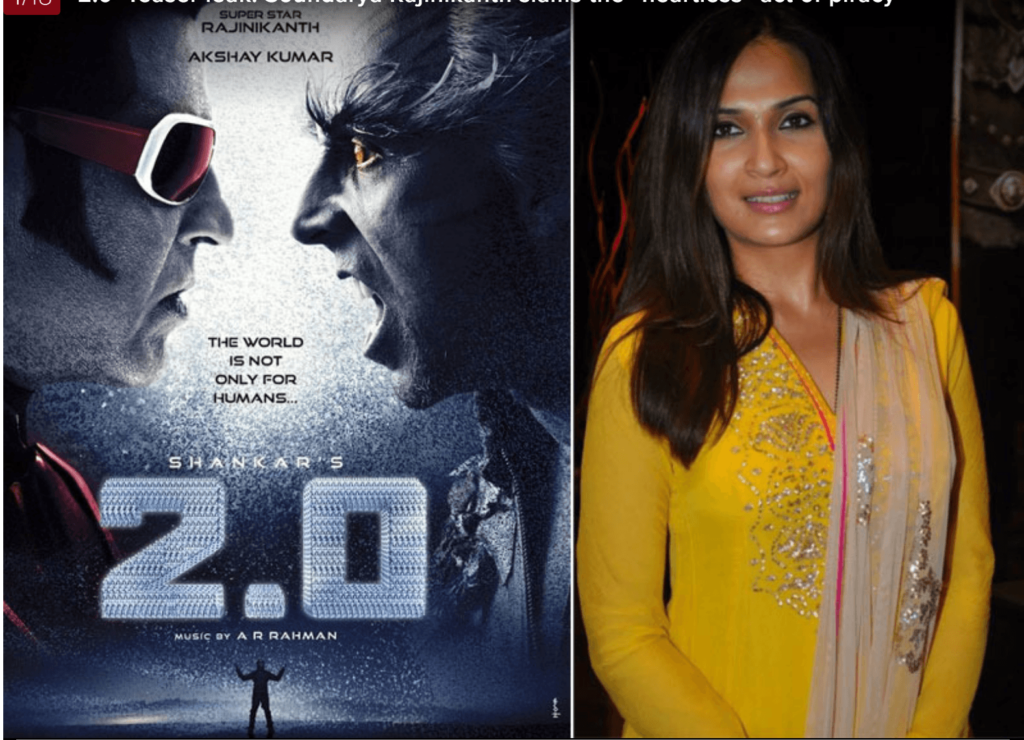 An unfinished video from Rajinikanth-Akshay Kumar starrer '2.0' found its way online. The video with temporary graphics got leaked on the internet. The leaked footage which is around 44 seconds long was immediately shared by many on social media. Though there were few who were elated to get a glimpse of the Tamil superstar in the teaser, most of them were extremely unhappy by the leak.
Movie buffs and critics criticized the alleged leak stressing on how so many years of hard work of technicians goes in vain in few minutes.Rajinikanth's daughter Soundarya Rajinikanth slammed the act on her Twitter account, "Leaking content online before the official release should not be tolerated or encouraged ! This is a heartless act ignoring hard work, efforts and sentiments of the makers for few seconds of excitement !!! #BeAshamed #StopPiracy #StopMisusingDigitalMedium."
"2.0" hot air balloon takes to Tamil Nadu skies ahead of film's teaser trailer launch:

As the makers of Rajinikanth and Akshay Kumar's '2.0' are getting ready to launch the film's teaser soon, they got the excitement going by inflating the hot air balloon that was used during the film's US promotions, this time around in Tamil Nadu. The balloon was among the many seen at the curtain raiser of the International Balloon Festival held in Pollachi near Coimbatore.Directed by Shankar, '2.0' is a sequel to 2010 blockbuster 'Robot' ('Enthiran') which had Aishwarya Rai Bachchan as the leading lady.Apart from being his Tamil debut, the film also marks Akshay's first collaboration with South Superstar Rajinikanth. The ambitious project, believed to be one of the biggest movies in the history of Indian cinema, was reportedly made on a budget of over Rs 350 crore.
It sees Rajinikanth playing doctor-scientist Vaseegaran while Akshay plays a scientist called Dr Richard, who turns into a Crow Man after an experiment goes wrong. '2.0' also features Amy Jackson in a leading role.
Akshay Kumar arrives in style for '2.0' press meet in Dubai: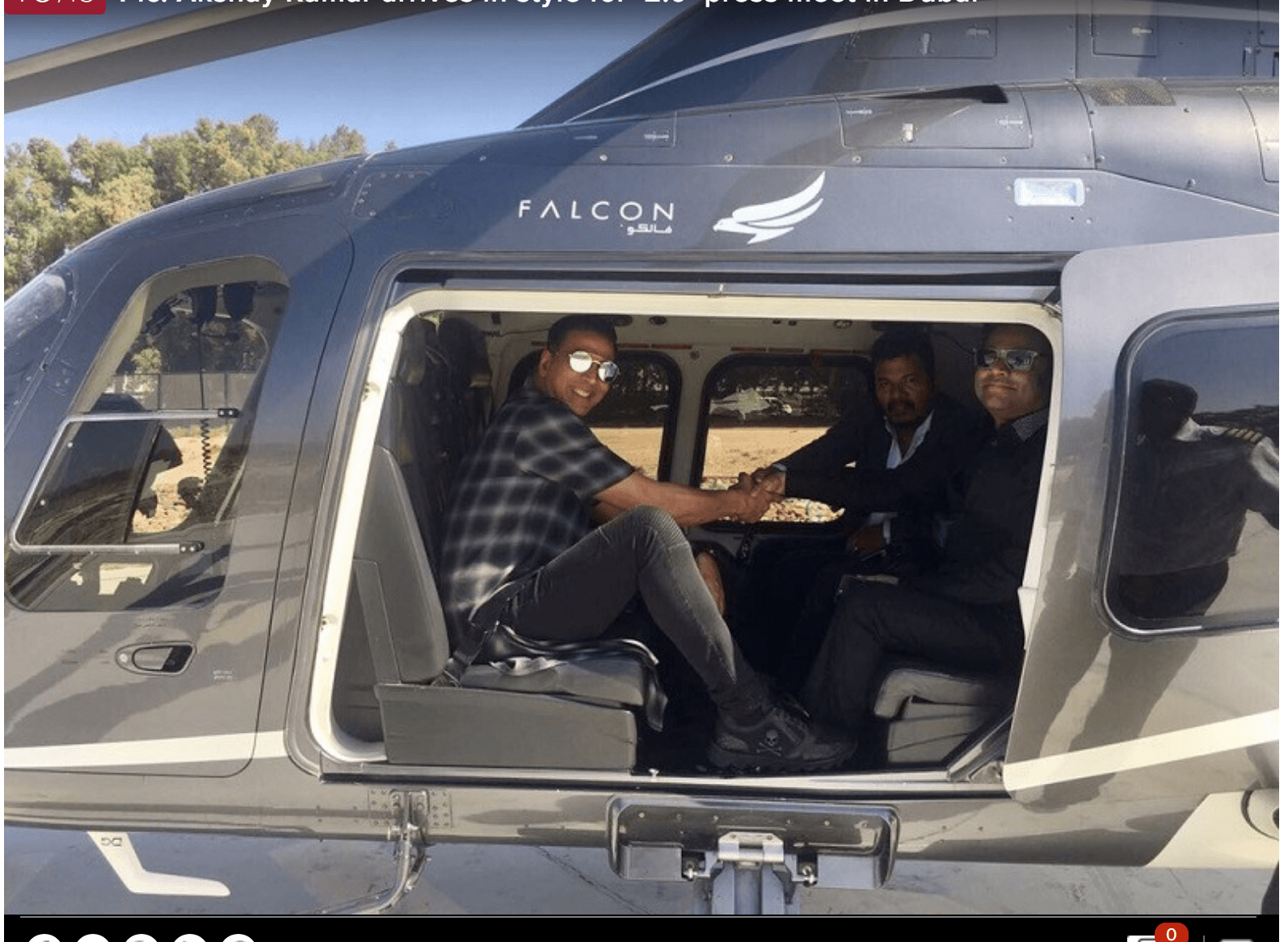 Akshay Kumar, who soon be seen as the antagonist in the Rajinikanth starrer '2.0', is actively involving himself in film promotions. The actor recently headed out to Dubai for the press meet of the film and did so in style.
Taking to Twitter, Khiladi Kumar shared a picture of himself seated in a chopper with '2.0' director Shankar and music composer AR Rahman. Apparently, the celebs hopped on a chopper from their hotel to the location of the press meet. Now, that exudes class and style. The actor captioned the picture as "And we are off for the #2Point0PressMeet! See you on the other side shortly. @shankarshanmugh @arrahman #2point0."It remains to be seen what exciting new details the three will reveal about the magnum opus that is set to release in January 2018.
"2.0"  Release date of Rajinikanth-Akshay Kumar starrer deferred to April 2018:-
In what may come as a bit of a disappointment to Rajinikanth and Akshay Kumar fans who have been waiting with bated breath for the release of the magnum opus '2.0', the release of the SciFi action thriller has been pushed to April 2018.The makers recently issued an official statement that read, "Lyca Productions-Superstar Rajinikanth-Akshay Kumar-Shankar magnum opus SciFi action thriller 2.0 (is) to be screened worldwide in April 2018. Nation's costliest 3D film starring Superstar Rajinikanth, Akshay Kumar, Amy Jackson, directed by Shankar, music by AR Rahman. The high-tech post production works are fully geared and the team is all set for the release schedule."The delay is reportedly because of the hi-tech post-production work, which the producer claims is on in full swing.
It may be recalled that the team had earlier announced that the film would hit the screens on January 25, 2018.
Akshay Kumar jokes about how he "enjoyed getting punched" by Rajinikanth in "2.0":-
Shankar's '2.0' starring superstar Rajinikanth and Akshay Kumar, promises an out of the world visual experience coupled with action stunts and sequences that match international standards. That's not it, there's another thing the audience will witness- Khiladi Akshay getting punched by Rajinikanth.
Talking about the same, Akshay reportedly revealed that once, while waiting on the set for the next shot, Rajinikanth brushed some dirt off his pants and the entire unit was "awestruck" by how "stylishly" he did it. Akshay went on to add that he even "enjoyed getting punched" by the South Superstar.Just like the rest of us, Akshay Kumar too is a die-hard Rajinikanth fan and confessed that Thalaiva is "the only one in the industry who has got swag." '2.0' is said to be one the most expensive films made in India to date and is scheduled to release worldwide in April 2018.
Here's when the teaser of Rajinikanth and Akshay Kumar starrer '2.0' will be out: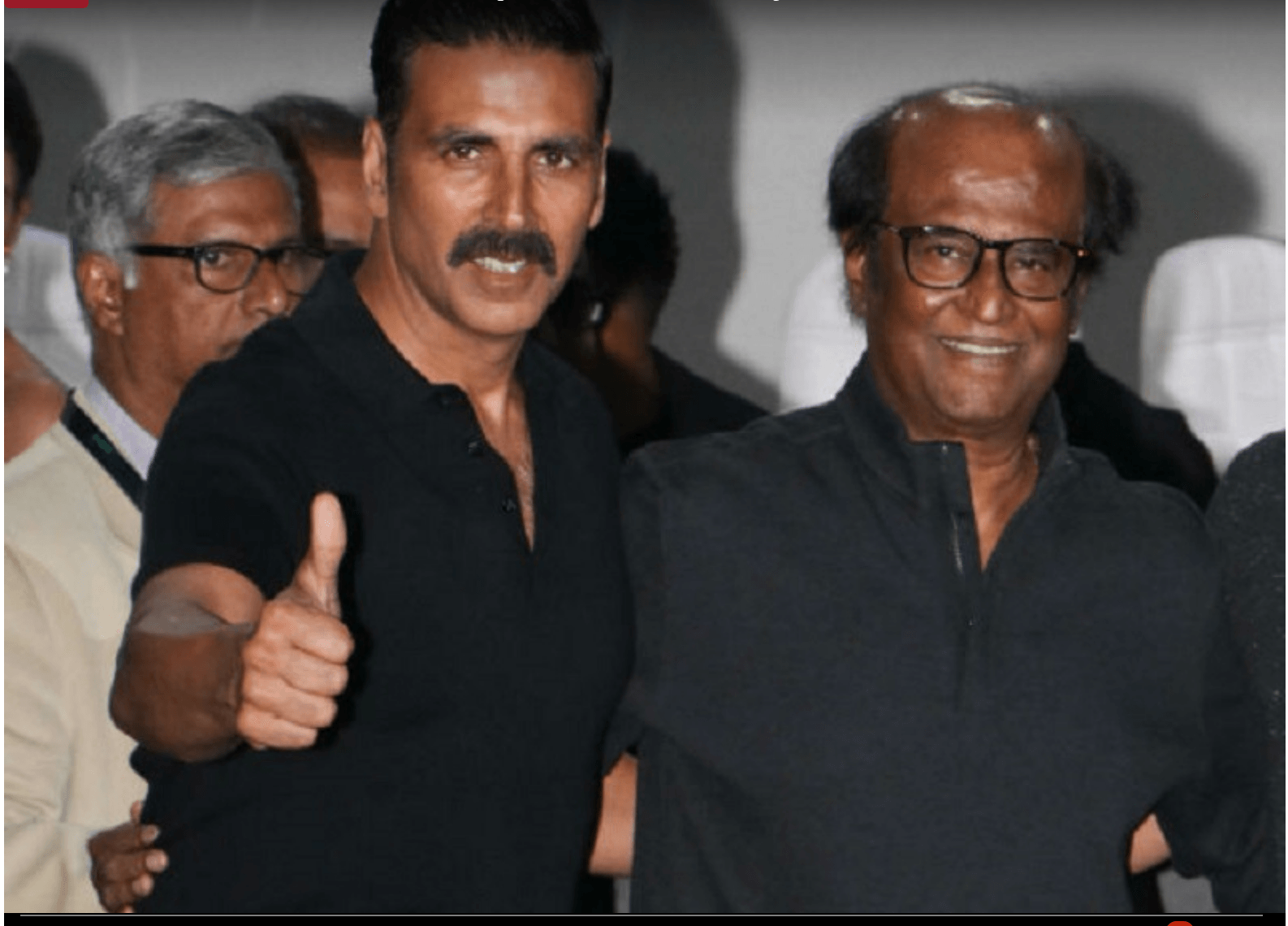 Rajinikanth and Akshay Kumar starrer '2.0' is touted to be one of the biggest movies in the history of Indian cinema. While the first look and audio of the movie have already created waves of excitement, fans are eagerly awaiting some visual treat and it looks like they don't have to wait too much.
According to reports, the teaser of Shankar's magnum opus will be unveiled on January 6 in Malaysia at Natchathira Vizha 2018. Rajinikanth is expected to attend the mega event in the South East Asian country. Meanwhile, actor Karthi has confirmed this big news in a press conference recently. Other than Akshay and Thalaivar Rajini, '2.0' will also see Amy Jackson in a pivotal role.
Akshay Kumar denies clash between his two films '2.0' and 'Padman':-
Since the last few days, rumours are rife that two films of Akshay Kumar will release on the same date, i.e. on Republic Day 2018. The films in question are the Rajinikanth starrer '2.0' and Akshay's home production 'Padman'. Many considered it a bad decision since the juggernaut sci-fi film could easily outdo 'Padman' at the ticket window. However, now Khiladi Kumar has finally put all rumours to rest.
The actor spoke about the rumours and said that a lot of false information is being circulated around lately. He also added that either 'Padman' or '2.0' will release on Republic Day. Of course, this leads to the question of whether the release of '2.0' will be pushed further, to which the actor replied that if '2.0' releases on R Day then he will postpone 'Padman' and if not then he will release it.Either way, it looks like a win-win situation for Akshay as either one of his films will definitely make it to the theaters on January 26, 2018.
"2.0" poster: Akshay Kumar looks wrathful in his fiendish avatar: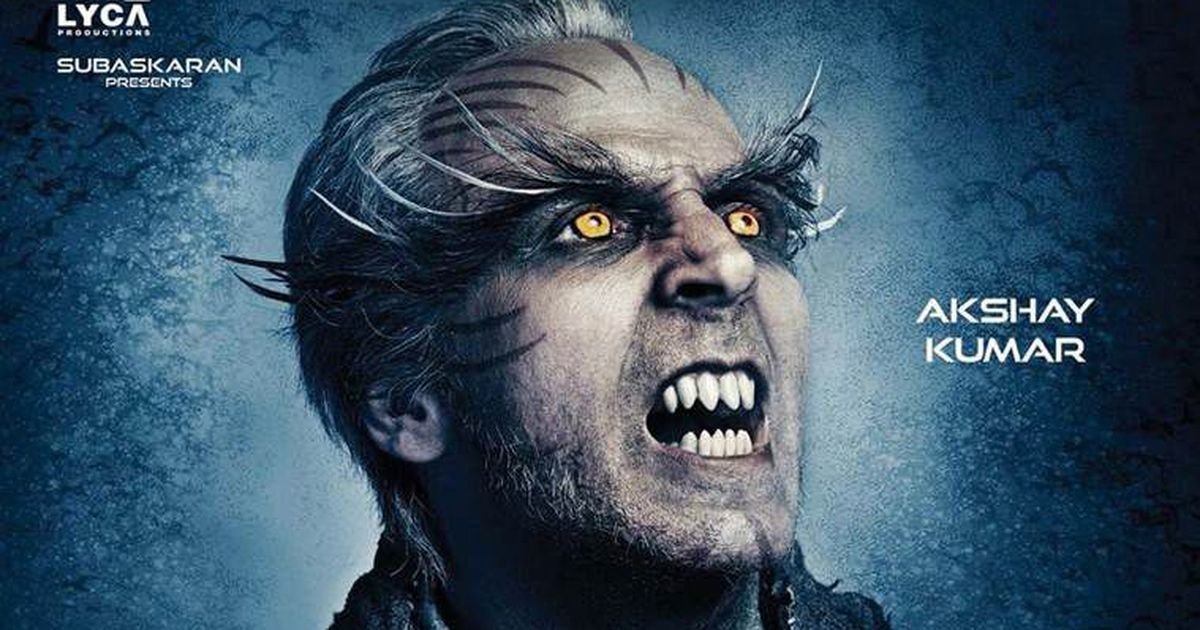 Akshay Kumar gives evil a new face in the new poster for his highly anticipated film '2.0', co-starring Rajinikanth. The character poster featuring the actor in his beastly avatar is sure to send shivers down your spine.
With the evil topaz eyes, long spiked eyebrows and cannibalistic teeth, the actor looks fierce as he's seen scowling defiantly.This picture has only set the expectations of the fans higher and Akshay, with his finesse, is sure to ace the act.In the film, Akshay will be essaying the role of the antagonist, an eccentric scientist called Richard, while Rajinikanth returns as scientist Vaseegaran.Starring two of the biggest superstars of Bollywood and Kollywood, 2.0 also has Amy Jackson in a supporting role.
 Rajinikanth and Akshay Kumar's '2.0' gets a grand audio launch in Dubai:
Rajinikanth and Akshay Kumar's '2.0' audio track was finally launched at a grand event in Dubai on Friday evening. The highly publicised event saw the gracious presence of stars like Amy Jackson, Karan Johar, Rana Daggubati, AR Rahman, RJ Balaji and many others under the same roof.Akshay Kumar, who plays the villain in the movie, was seen setting the stage on fire with his performance. Amy Jackson, who plays an android in the movie, also gave a sizzling performance at the event. Since the movie is set to be released in three languages- Tamil, Hindi and Telugu, the event actually had three hosts. Karan Johar was the host for the evening for Hindi, RJ Balaji for Tamil and Rana Daggubati for Telugu. The three co-hosts were also clicked together in their dapper avatar.
After the event, Akshay shared a picture with the entire cast and crew of '2.0' on stage on his Instagram handle with the caption, "And here it is, the moment you all have been waiting for…the much-awaited #2Point0AudioLaunch!"As for the album itself, it is composed by maestro AR Rahman and is said to have three songs, out of which, two have already been unveiled. The film will be released in a special 3D format and is set to the hit the silver screen on the Republic Day weekend in 2018.
 Akshay Kumar chats away with "legends" Rajinikanth and AR Rahman at '2.0' event in Dubai:
Akshay Kumar recently headed out to Dubai for the press meet of the magnum opus '2.0'. Now, the actor shared an epic picture from the event with two legendary celebs.Taking to Instagram, Akshay shared a picture of himself with Superstar Rajinikanth and music maestro AR Rahman. In the picture, the actor can be seen sitting and chatting casually with the veteran actor and music composer. Khiladi Kumar also expressed his happiness on getting to share the stage with the two as he captioned the click as, "Happy to share the stage with these gentlemen earlier today…each a legend in their own right! #2point0PressMeet."
Directed by Shankar, '2.0' will see Akshay in a villainous avatar where he will be facing off against the Thalaivar.
Akshay Kumar to change his voice for Rajinikanth starrer '2.0':
Akshay Kumar has already created a lot of buzz with his radically different look in Rajinikanth's '2.0'. Now it has come to light that not only his look but even his voice will be entirely different. According to reports, Akshay will dub for Hindi in his own voice, which will then be altered completely. This is now possible thanks to technological sound enhancement that changes voices to any degree. Sound designer Resul Pookutty revealed that he has been working with director S. Shankar on the perfect voice and they are close to getting it to perfection. Overall, this will ensure that none of Akshay's trademark characteristics including his distinct voice will now be a part of the film. Meanwhile, his lines in Tamil and Telugu will be dubbed by dubbing artists.
Director S. Shankar reveals Amy Jackson's look from Rajinikanth-Akshay Kumar starrer '2.0':
Writer and director of megastar Rajinikanth's upcoming science fiction film '2.0' S. Shankar, took to Twitter to share Amy Jackson's first look from the film. He shared a picture of the enigmatic actress with a caption which said, "#2point0 song shoot starts today". Earlier on Tuesday, the 'Ekk Deewana Tha' actress had shared a picture with a replica of Rajinikanth's Robot with the caption "Final fittings at director Shankar's office, ready to shoot with the real deal tomorrow, Mr Rajinikanth #Robot #2point0 . The movie serves as a sequel to the 2010 Tamil film 'Enthiran', and features Rajinikanth reprising the roles of Dr. Vaseegaran and Chitti. The film also stars Bollywood's Khiladi Akshay Kumar but in a negative role and reports suggest that it is India's most expensive film till date. The film is slated to release on January 25, 2018.
Rajinikanth and Akshay Kumar's '2.0': Times when the film made headlines:

With the 'Baahubali' storm now coming to pass, the next epic film that everyone has their eyes on is Rajinikanth's '2.0'. The sci-fi film, which also stars Akshay Kumar is gearing up to make a mark of its own at the box-office. Although the film is months away from its big release, the hype surrounding the Shankar directorial is already very high. We have drawn up a list of times when the film starring Rajinikanth made headlines… by Shivkumar H.
"2.0" to be dubbed in over 15 languages:
News broke recently that '2.0' will be dubbed in over 15 languages. This goes to show how ambitious the makers really are in making this film a superhit. Some reports suggest that the film's release was pushed back as the movie required extensive dubbing. The Akshay and Rajinikanth film is touted to release in Tamil, Telugu, Hindi, Japanese, Korean, Chinese and many other languages. Sound designer Resul Pookutty has said that it is going to be a real challenge and that the dubbing process itself will take three months.
''2.0'' crew members attack journalists in Chennai: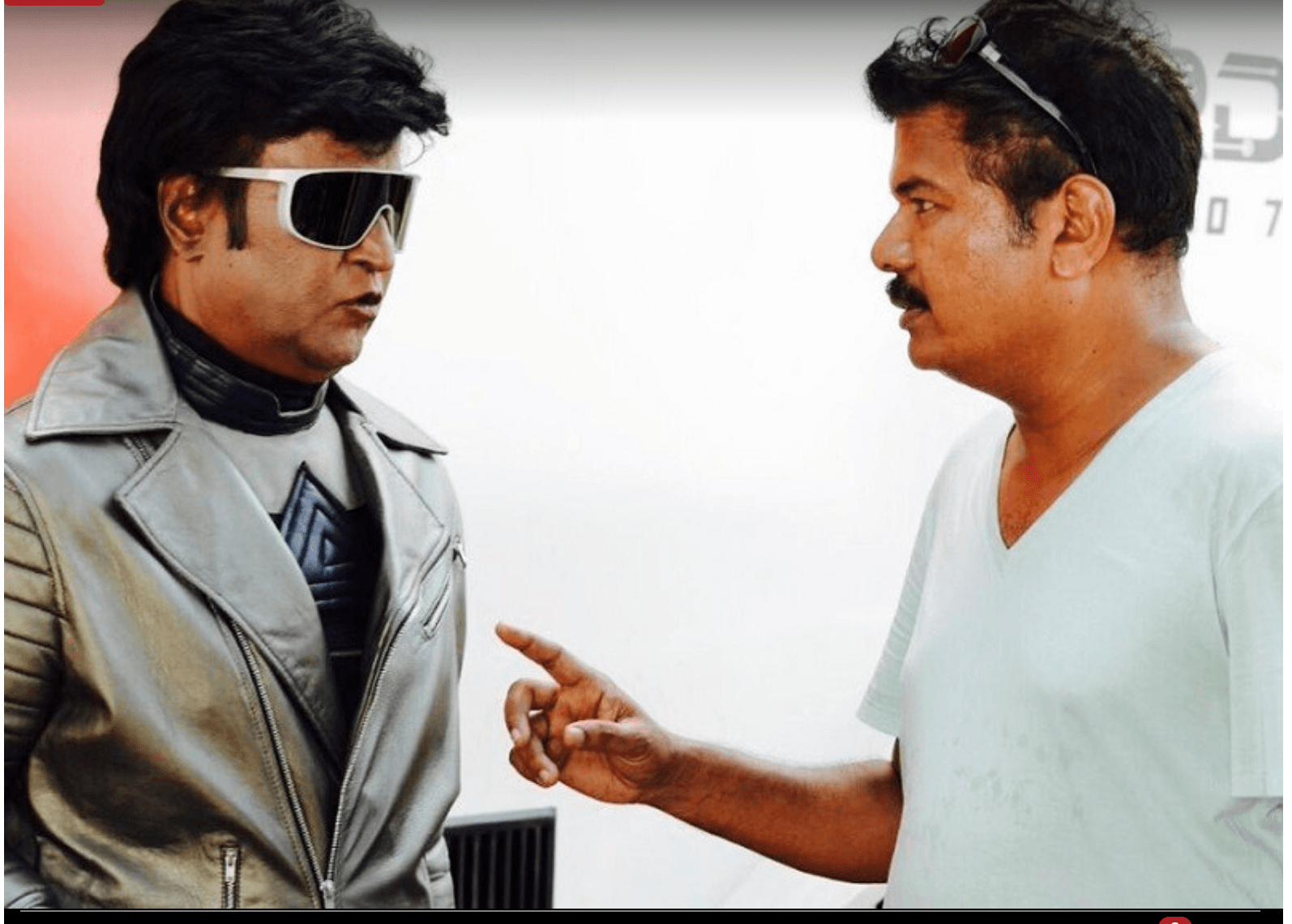 Perhaps the only time when the movie made news for the wrong reasons, was when the crew members allegedly attacked journalists. Two photojournalists were reportedly assaulted by the members of '2.0' team after they questioned the crew why they had blocked the road (for the shoot) and causing inconvenience. It was when the paparazzi started taking pictures that the crew manhandled them thus creating a furore. Director Shankar later issued a public apology and the matter was put to rest.
"2.0" satellite rights sold for whopping Rs 110 crore:
The film '2.0' has always been associated with opulence. The movie's satellite rights for Tamil, Telugu and Hindi languages, were reportedly bought by a private network for a whopping Rs 110 crore. This is incredible considering the fact that it is now the highest amount ever to be paid for satellite rights of a regional film.
Grand first look launch in Mumbai:
There has never been a time when a film's first look has been launched with such pomp and show. Shankar's '2.0' which was launched in Mumbai by none other than Bollywood director Karan Johar, had the entire cast of the film including Rajinikanth, Akshay Kumar and Amy Jackson in attendance. The highlight of the night, however, ended up being Salman Khan, who made a surprise visit. He revealed that the spur of the moment decision was only to meet the Superstar.
''2.0'' becomes most expensive film of all time:
While the 'Baahubali' franchise was made on an impressive Rs 250 crore budget, the Shankar film had a budget of Rs 350 crore, which was later increased to Rs 400 crore. It has thus become the most expensive film of all time.